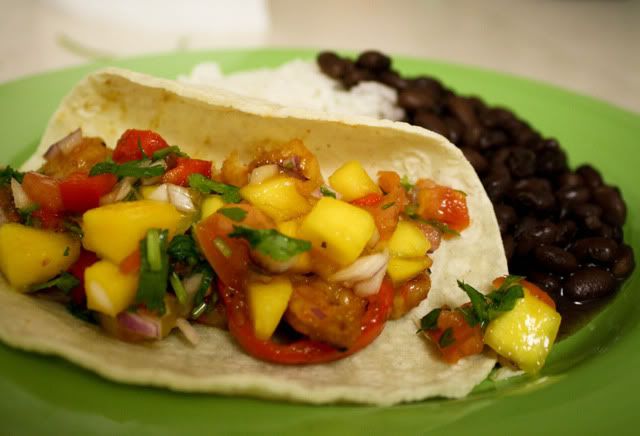 Stu is obsessed with the seafood tacos at Tia Rosa's Taqueria, thank goodness it's just down the street! I love their bean burros, heaven knows I wouldn't make it through this pregnancy without them.. Anyway, the only problem with the tacos is that they are $4 each! They are worth the $4, trust me, but we decided to try our hand at duplicating their recipe for the shrimp tacos at a fraction of the cost. Stu says they were amazing, and pretty close the the original! He flatters me...
Shrimp Tacos with Mango Salsa

corn or flour tortillas
large peeled and de-veined shrimp (about 5-6 per taco, we both eat at least two tacos each)
1/2 one lemon, juiced
1 sweet bell pepper, sliced up into 1/2 inch lengths
red onion
1 clove crushed garlic
2 shakes of cayenne or roasted red pepper flakes (optional)
2 tbsp of teriyaki sauce
1 tsp of brown sugar
dash of s&p



Mango Salsa:


2 mangos
1 roma tomato
red onion (not too much, about half of the amount of tomato used)
small bunch of cilantro


1. Cut about 3 thin slices/rings from the red onion and combine it in a large bowl with the lemon juice, red peppers, garlic, teriyaki sauce, brown sugar, and other seasonings. Let the shrimp marinate in this for at least 30mins. I let mine sit for a couple hours in the fridge while I ran errands, but I think 30mins is long enough. If you're working with frozen shrimp, thaw it out the night before or soak it in lukewarm water until thawed, before placing it in marinade.
2. Heat up your skillet or grill pan (we have a flat top grill pan I like to use since we can't have a grill at our apt) and coat with a little bit of olive oil. Remove shrimp and veggies from marinade and cook about 4mins on each side, until the shrimp is opaque and a good pink color. I like to leave mine on the grill pan a little longer to get nice grill marks on it, yummm.
3. While the shrimp is marinating, start on the mango salsa. Cut up the mango in 1/2 inch cubes, dice up the tomatoes, and also about two thin slices of red onion. You'll want just a little bit of onion, and in small pieces so it's not too overpowering in the salsa. Cut the stems off the cilantro and cut the leaves into smaller pieces. Mix everything together and let sit in the fridge, the more time it has to set, the tastier it will be.
4. When the shrimp is almost done, heat up your tortillas (especially if you're using corn tortillas). I will stick them in the microwave for ten seconds and keep them from drying out, by laying a damp paper towel on top of them until I'm ready to use them.
5. Assemble your taco, shrimp and veggies first and then scoop a big spoonful of the salsa on top.

That's it! Pretty easy and SO good! It's also great with grilled salmon, even chicken if you don't like seafood! We ended up making 5 tacos last time, and everything was served with black beans and cilantro-lime rice. We were stuffed! Cost-wise, it was cheaper than us buying two of the $4 tacos at Rosa's, so it was definitely worth it! My favorite part of eating at home is knowing exactly what's in your food. I don't know how may calories is in one of the Rosa's tacos, but I'll bet it's a bigger number than the calorie count of what we whipped up. Restaurant food almost always has hidden fats and sugars that we don't know about, so it's better to eat in when you can!